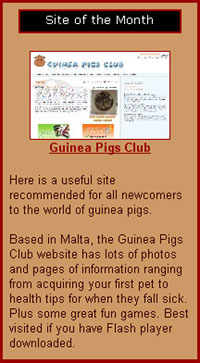 One of the most well known Guinea Pigs Sites on the net 'Comfy Cavies', awarded 'Guinea Pigs Club' as the site of the month for October 2006.
This is what they said about 'Guinea Pigs Club':
"Here is a useful site recommended for all newcomers to the world of guinea pigs.
Based in Malta, the Guinea Pigs Club website has lots of photos and pages of information ranging from acquiring your first pet to health tips for when they fall sick. Plus some great fun games. Best visited if you have Flash player downloaded."

'Comfy Cavies' is a UK based guinea pig centre, where they offer various services including boarding and boutique. For more information visit: http://www.comfycavies.com/