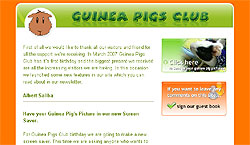 As it's Guinea Pig Club first birthday, we've sent out our second newsletter. We also launched are Survey which you can find in our site, we also launched two new downloads 2007 calendar and Max and Candy Screen Saver.
We are also going to make a new screen saver for Guinea Pigs Club birthday. We are asking everyone that would like to see his guinea pig in this screen saver send us an email on info@guineapigsclub.com
To view our newsletter click here.
To download our newsletter click here.