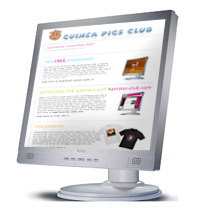 Our 3 main topics in this month's newsletter are new FREE screen saver,guineapigsclub.com partners with hamster-club.com & new products To view our newsletter click here.

new FREE screen saver
For the month of November guinea pigs club is giving away a free screen saver. This screen saver's theme is 70's TV. We would like to THANK all the visitor who helped us by sending us guinea pigs pictures. We didnít use all the photos we had received but the ones we didn't use this time are we'll surely be using them for our next screen saver.
guineapigsclub.com partners with hamster-club.com
After more than a year and a half, Guineapigsclub felt it had to expand to give more informative information to its clients by being partners with Hamster-Club.com. Guineapigsclub.com gives all the information needed for your guinea pig while Hamster-Club.com caters for hamsters giving all the full descriptions, details and information about the various types of hamsters, their lifespan, housing, feeding and much more! You may find all this and more on http://www.hamster-club.com
new products
Guinea Pigs Club online shop has added some new products for our customers, the new themes are 'love guinea pigs'and our partner's products 'hamster-club'. You can also find our customers favorite 'united guinea pigs' merchandising. We would gladly welcome any ideas and suggestions on new themes. You can do this by sending us an email on info@guineapigsclub.com
Click here to visit shop.